Sonoma-Style Beef Skewers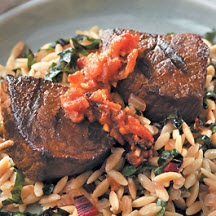 Recipe courtesy of The Beef Checkoff.
Recipe Ingredients:
Sauce:
4 large plum tomatoes
2 tablespoons extra to virgin oil
3 cloves garlic, minced
1 pound boneless beef top sirloin steak, cut 1-inch thick
Seasoning:
1 tablespoon extra to virgin olive oil
1/2 teaspoon ground cardamom
1/2 teaspoon smoked paprika
1/2 teaspoon freshly ground black pepper
4 (6-inch) bamboo skewers, soaked in water 10 minutes
1 pound Swiss chard
1 tablespoon extra virgin olive oil
1 medium onion, chopped
1 teaspoon minced garlic
1/4 cup water
1/2 teaspoon kosher salt
3 cups cooked whole grain or regular orzo
2 tablespoons toasted pine nuts (optional)
Cooking Directions:
Prepare Sauce. Place tomatoes on grid over medium-high coals. Grill, uncovered, 9 to 11 minutes or until skins are completely blackened, turning frequently. Remove and discard skins from tomatoes. Finely chop tomatoes; place in medium bowl. Add remaining sauce ingredients; season with salt, as desired. Set aside.
Cut beef steak into 8 equal pieces.
Combine Seasoning ingredients in large bowl. Add beef; toss to coat.
Thread 2 beef pieces onto each bamboo skewer, leaving small space between pieces.
Place skewers on grid over medium, ash-covered coals. Grill, covered, 10 to 14 minutes (over medium heat on preheated gas grill, covered, 9 to 13 minutes) for medium rare (145°F | 62.7°C) to medium (160°F | 71.1°C) doneness, turning occasionally.
Meanwhile, remove and finely chop Swiss chard stems and ribs. Thinly slice chard leaves.
Heat oil in large skillet over medium heat until hot. Add onion; cook and stir 4 to 5 minutes or until tender. Add chard stems and leaves in batches, if necessary; cook and stir about 2 minutes or until leaves are wilted. Add garlic; cook and stir about 20 seconds. Add water; cover and cook 3 to 5 minutes, or until stems are tender. Season with salt.
To Assemble and Serve: Combine orzo with chard mixture; divide among 4 bowls. Top each with 1 beef skewer; spoon some sauce on top. Garnish with pine nuts, if desired. Serve with remaining sauce.
Makes 4 servings.
Nutritional Information Per Serving (1/4 of recipe): Calories: 573; Total Fat: 20g; Saturated Fat: 4g; Cholesterol: 49mg; Total Carbs: 61g; Fiber: 5g; Protein: 38g; Sodium: 545mg.
Recipe and photograph courtesy of The Beef Checkoff.