Southwest Beef Pot Roast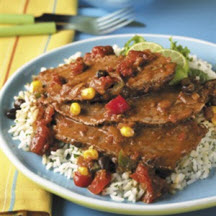 Classic southwestern flavors permeate this pot roast as it simmers to fork-tender perfection in chunky tomato salsa seasoned with cumin. Once the roast is cooked, black beans and corn are simmered in the flavorful cooking liquid and served with thin slices of the beef.
This recipe is an excellent source of niacin, vitamin B6, vitamin B12, selenium and zinc; and a good source of fiber and iron.
Recipe Ingredients:
1 beef Bottom Round Roast (3 to 4 pounds)
2 teaspoons vegetable oil
2 teaspoons ground cumin
1 (16-ounce) jar prepared thick-and-chunky salsa
1/2 teaspoon salt
1/4 teaspoon ground black pepper
1 (15-ounce) can black beans, rinsed, drained
1 1/2 cups frozen corn (optional)
Cooking Directions:
Heat oil in stockpot over medium heat until hot. Press cumin evenly onto all surfaces of beef roast. Place roast in stockpot; brown evenly. Pour off drippings.
Season roast with salt and pepper; add salsa. Bring to a boil. Reduce heat; cover tightly and simmer 2-1/2 to 3 1/2 hours or until roast is fork-tender.
Remove roast; keep warm. Skim fat from cooking liquid. Stir in beans and corn, if desired; bring to a boil. Reduce heat and simmer, uncovered, 8 to 10 minutes or until liquid is slightly thickened.
Carve roast into thin slices. Serve with bean mixture.
Makes 8 to 10 servings.
Nutritional Information Per Serving (1/8 of recipe): 247 calories; 7 g fat (2 g saturated fat; 3 g monounsaturated fat); 72 mg cholesterol; 736 mg sodium; 2 g carbohydrate; 4 g fiber; 3 g protein; 5.3 mg niacin; 0.4 mg vitamin B6; 1.5 mcg vitamin B12; 3.2 mg iron; 30.6 mcg selenium; 4.8 mg zinc.
Recipe and photograph courtesy of The Beef Checkoff.