Spicy Five-Pepper T-Bone Steaks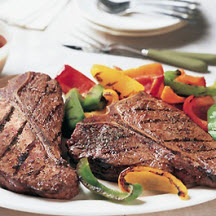 Recipe courtesy of The Beef Checkoff.
Recipe Ingredients:
2 beef T-Bone steaks, cut 1-inch thick (about 16 ounces each)
Five-Pepper Seasoning:
3 tablespoons coarsely ground mixed peppercorns (black, white, green and pink)
2 teaspoons kosher salt
1/8 teaspoon ground red pepper
Spicy Peppercorn Steak Sauce:
2 teaspoons vegetable oil
1/4 cup chopped onion
1 teaspoon minced garlic
1 cup ketchup
1/2 cup beef broth
1/3 cup raisins
3 tablespoons balsamic vinegar
1 tablespoon molasses
1 tablespoon soy sauce
Additional beef broth (optional)

Cooking Directions:
Combine Five-Pepper Seasoning ingredients in small bowl; mix well. Reserve 2 teaspoons for Spicy Peppercorn Steak Sauce. Set aside remaining mixture for seasoning beef steaks.
Prepare Spicy Peppercorn Steak Sauce: Heat oil in small saucepan over medium heat until hot. Add onion and garlic; cook and stir 1 to 2 minutes or until tender but not browned. Stir in ketchup, broth, raisins, vinegar, molasses, soy sauce and reserved 2 teaspoons Five-Pepper Seasoning; bring to a boil. Reduce heat; simmer gently 10 minutes to blend flavors, stirring occasionally. (Sauce will thicken slightly.)
Place sauce in blender or food processor container. Cover; pulse on and off for slightly chunky texture. (For a thinner sauce, additional broth may be added 1 tablespoon at a time; pulse on and off after each addition.) Return sauce to saucepan; keep warm until ready to serve.
Press remaining Five-Pepper Seasoning evenly onto beef steaks.
Place steaks on grid over medium, ash-covered coals. Grill, covered, 11 to 16 minutes (over medium heat on preheated gas grill, 15 to 19 minutes) for medium rare (145°F | 62.7°C) to medium (160°F | 71.1°C) doneness, turning occasionally.
Remove bones; carve steaks crosswise into slices. Serve with sauce.
Makes 4 servings.
Recipe as seen in The Healthy Beef Cookbook, published by Houghton Mifflin Harcourt.
Tip: Spicy Peppercorn Steak Sauce may be prepared ahead and frozen in an airtight container for up to 2 months. To reheat, heat from frozen in a saucepan over medium heat until hot, stirring occasionally.
Nutritional Information Per Serving (1/4 of recipe): Calories: 335; Total Fat: 11g; Saturated Fat: 3g; Cholesterol: 48mg; Total Carbs: 35g; Fiber: 3g; Protein: 26g; Sodium: 1984mg.
Recipe and photograph courtesy of The Beef Checkoff.