Steak with Roasted Garlic and Herbs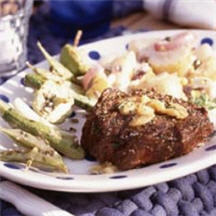 Whole bulbs of garlic are soft and sweet after roasting, making them a fantastic flavor treat to spread on grilled steak or to toss with steamed vegetables.
Recipe Ingredients:
1 or 2 whole garlic bulbs
3 to 4 teaspoons snipped fresh basil or 1 teaspoon dried basil, crushed
1 tablespoon snipped fresh rosemary or 1 teaspoon dried rosemary, crushed
1 tablespoon olive oil or vegetable oil
1 1/2 pounds boneless beef sirloin steak or ribeye steaks, cut 1-inch thick
1 1/2 cups sliced yellow summer squash
1 to 2 teaspoons cracked black pepper
1/2 teaspoon salt
Fresh oregano sprigs (optional)
Cooking Directions:
Remove papery outer layers from garlic bulb(s), leaving individual garlic cloves attached to bulb(s). Cut off about 1/2-inch from top(s) of bulb(s) and discard. Fold a 20 x 18-inch piece of heavy foil in half crosswise. Trim into a 10-inch square. Place garlic bulb(s), cut side(s) up, in center of foil square. Bring foil up around garlic, forming a shallow bowl. Sprinkle with basil and rosemary; drizzle with oil. Completely enclose garlic in foil, twisting ends of foil on top.
For a charcoal grill, grill garlic on the rack of an uncovered grill over medium coals about 30 minutes or until garlic cloves are soft, turning garlic occasionally. Remove garlic from foil packet, reserving oil mixture. Cool slightly.
Meanwhile, trim fat from meat. In a small bowl combine pepper and salt; rub onto both sides of meat. While garlic is grilling, add meat to grill. Grill to desired doneness, turning once halfway through grilling. For sirloin steak allow 14 to 18 minutes for medium-rare (145°F / 60°C) and 18 to 22 minutes for medium (160°F / 70°C). For ribeye steaks, allow 11 to 15 minutes for medium-rare (145°F / 60°C) and 14 to 18 minutes for medium (160°F / 70°C). (For a gas grill, preheat grill. Reduce heat to medium. Place garlic, then meat on grill rack over heat. Cover and grill as above.)
To serve, cut meat into serving-size pieces. Squeeze garlic pulp from each clove onto the steak. Mash pulp slightly with a fork; spread over meat. Drizzle with reserved oil mixture. If desired, garnish with fresh oregano.
Makes 6 servings.
Nutritional Information Per Serving (1/6 of recipe): calories: 251, total fat: 15g, saturated fat: 5g, cholesterol: 76mg, sodium: 235mg, carbohydrate: 2g, fiber: 0g, protein: 26g, vitamin C: 3%, calcium: 2%, iron: 20%
Recipe and photograph provided by Better Homes and Gardens - BHG.com a member of the Home and Family Network for the best of cooking, gardening, decorating and more. © 2003 Meredith Corporation. All Rights Reserved.