Two-Steppin' Tenderloin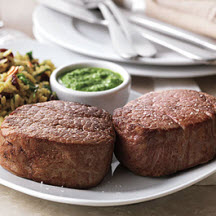 Recipe courtesy of The Beef Checkoff.
Recipe Ingredients:
2 beef tenderloin steaks or Petite steaks, cut 1 1/2-inch thick (about 5 to 6 ounces each)
3 cup fresh baby spinach - divided use
2 tablespoons toasted sliced almonds
2 tablespoons freshly grated Parmesan cheese
1 clove garlic, coarsely chopped
1 cup plus 2 tablespoons water - divided use
1 tablespoon COLAVITA® Extra Virgin Olive Oil
1 (8.8-ounce) package UNCLE BEN'S® READY RICE® Whole Grain Brown
1/2 teaspoon salt (optional)
2 tablespoon chopped dried cherries
Toasted sliced almonds (optional)
Cooking Directions:
Make Pesto: Place 2 cups spinach, almonds, cheese and garlic in food processor container. Cover; process until coarse paste forms. With motor running, slowly add 2 tablespoons water and oil until smooth. Season with salt, as desired. Set aside.
Preheat oven to 350°F (175°C).
Heat oven-proof, nonstick skillet over medium heat. Place beef steaks in skillet and brown 2 minutes. Turn steaks over and place skillet into preheated oven; cook 13 to 18 minutes for medium rare to medium doneness, turning once.
Meanwhile, combine rice, remaining 1 cup water and salt, if desired, in medium saucepan; cook according to package directions.
Chop remaining 1 cup spinach. During last 5 minutes of cooking, add chopped spinach to pan and continue to cook. Remove from heat, add cherries and 1 tablespoon pesto to rice; stir to combine.
Remove steaks from oven when internal temperature reaches 135°F (57.2°C) for medium rare; 150°F (68.3°C) for medium doneness. Remove steaks from pan; tent loosely with aluminum foil. Let stand 5 to 10 minutes Temperature will continue to rise about 10°F to reach 145°F (62.7°C) for medium rare; 160°F (71.1°C) for medium doneness.
Serve steaks over brown rice with remaining pesto. Garnish rice with additional almonds, if desired.
Makes 2 servings.
Nutritional Information Per Serving (1/2 of recipe): Calories: 584; Total Fat: 23g; Saturated Fat: 6g; Cholesterol: 104mg; Total Carbs: 48g; Fiber: 6g; Protein: 45g; Sodium: 227mg.
Recipe and photograph courtesy of The Beef Checkoff.