Yankee Pot Roast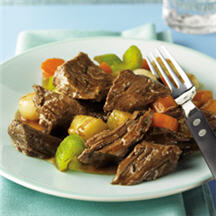 Tender, braised Yankee pot roast with the trimmings — potatoes, carrots, celery and mushrooms.
Recipe Ingredients:
1 (2 1/2 pound) boneless bottom round roast
1/4 teaspoon black ground pepper
2 onions, thinly sliced
3 cloves garlic, crushed
1 1/2 cups beef broth
1 cup water
3 tablespoons tomato paste
1/2 teaspoon crushed dried thyme
1/2 teaspoon crushed dried marjoram
1/2 teaspoon crushed dried basil
4 potatoes, peeled and quartered
3 carrots, peeled, cut into 2-inch pieces
1 celery rib, coarsely chopped
1/4 pound mushrooms
Cooking Directions:
Preheat broiler.
Season boneless bottom round roast with pepper. Place meat in an oven broiler pan, broiling until brown on all sides.
Reduce oven temperature to 325°F (160°C).
In a heavy oven-safe skillet, combine onions, garlic, beef broth, water, tomato paste, thyme, marjoram, and basil. Add roast and bring to a low simmer. Cover tightly, return to oven, and cook for 1 1/2 hours.
Add potatoes, carrots, and celery; continue cooking for another hour.
Remove from oven; slice meat and arrange on a platter with potatoes and carrots. Take the onions, celery, and juice and heat in a skillet; add mushrooms. Serve over roast.
Makes 6 servings.
Recipe and photograph provided courtesy of the Beef Industry Council.