Avocado Ice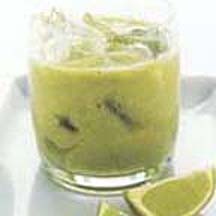 Creamy! A liquid, Japanese-inspired guacamole on ice -- nutritiously delicious and refreshing.
Recipe Ingredients:
1/4 head iceberg lettuce, outer leaves removed
1 lime, peeled
1/4 cucumber
1/2 avocado, peeled and stoned
1 teaspoon wasabi (optional)
3 ice cubes
Cooking Directions:
Juice the lettuce, lime and cucumber. Transfer to a blender and blend with the avocado and wasabi.
Serve over ice.
Makes 1 serving.
Food Factoids:
Avocados are the most energy dense and nutrient-rich fruit per calorie.

Wasabi, which is also called Japanese horseradish, is available in specialty stores and Asian markets in both paste and powder form. It has a hot, fiery, pungent flavor. Take care.
Copyright © 2005 Pippa Cuthbert and Lindsay Cameron Wilson. Reprinted from JUICE!. Copyright by Good Books (www.goodbks.com). Used by permission. All rights reserved.