Café con Leche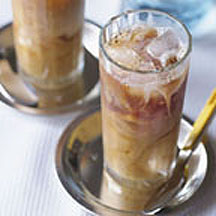 Coffee with milk, the perfect combination.
Recipe Ingredients:
1 cup (2.5 ounces) Kenya or Africa Kitamu ground coffee
3 cups (24 fluid ounces/710 milliliter) filtered water
1 cup (8 fluid ounce/236 milliliter) cold milk
Classic syrup (Simple Syrup)*
Cooking Directions:
Brew the coffee double strength using one cup of ground coffee to three cups of water.
After brewing is complete, pour the coffee into a pitcher or carafe. Add three cups of ice to the pitcher and let cool.
Fill four tall glasses halfway with ice. Pour 1/2 cup (four ounces) iced coffee over ice. Add 1/4 cup (2 fluid ounces/59 milliliters) cold milk to each glass.
Sweeten to taste with classic syrup
Makes 4 servings.
*Or use your favorite sweetner.
Recipe and photograph provided courtesy of www.starbucks.com; through ARA Content.