Coconut Dream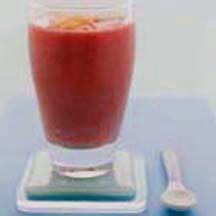 Sheer lusciousness! A strawberry and coconut lover's dream. Imagine you're on a beach on a balmy summer's afternoon.
Recipe Ingredients:
2 handfuls (about 7 to 8 medium-large) strawberries, hulled
1 medium banana, peeled
2 tablespoons coconut milk
4 ice cubes
Cooking Directions:
Juice the strawberries. Transfer to a blender with the banana, coconut milk and ice. Blend thoroughly.
Serve topped with freshly shaved coconut if desired.
Makes 1 serving.
Food Factoids:
Strawberries supply the super-nutrient, ellagic acid, and vitamin C. Both coat the lining of the lungs and fight free radicals.

For an even healthier alternative, 2 tablespoons of silken tofu can be substituted for the coconut milk.
Nutritional Information Per Serving (1 recipe): 204.4 calories; 29% calories from fat; 7.2g total fat; 0.0mg cholesterol; 7.5mg sodium; 681.2mg potassium; 37.5g carbohydrates; 5.6g fiber; 20.3g sugar; 31.9g net carbs; 2.7g protein.
Copyright © 2005 Pippa Cuthbert and Lindsay Cameron Wilson. Reprinted from JUICE!. Copyright by Good Books (www.goodbks.com). Used by permission. All rights reserved.