Healthy On The Run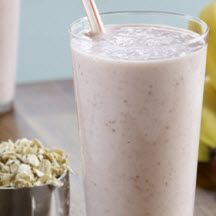 Literally a bowl of chocolaty oatmeal with fruit disguised as a smoothie!
Healthy on the Run was created by Elsie Lindenmuth of York, Pa. Elsie was a runner up in the milk mustache campaign's "Blend-Off/Send-Off" Contest, which was part of the Rodale "Fitness Goes Better With Milk" promotion that ran in Prevention, Runner's World, Men's Health, Bicycling and Heart & Soul magazines.
Recipe Ingredients:
1 1/2 cups fat free milk*
3 tablespoons non-fat chocolate syrup*
1 banana cut in 8 pieces
1/4 cup applesauce
1/4 cup quick or rolled (old-fashioned oats
1 to 2 ice cubes

Cooking Directions:
Put all ingredients in blender. Run on medium for 1 minute and serve.
Makes 1 serving.
*Tips: Whole or 2% milk can be used. Most chocolate syrups are fat-free.
Recipe and photograph courtesy of the National Dairy Council.