Heaven Scent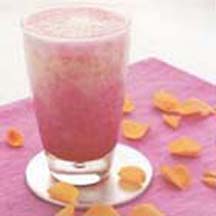 A rose-scented, tropical lychee drink.
Recipe Ingredients:
8 lychees, peeled
1 teaspoon rosewater
2 to 3 ice cubes
1 teaspoon grenadine
Cooking Directions:
Blend the lychees with the rosewater and ice. Pour in grenadine.
Makes 1 serving.
Food Factoid: Grenadine is a sweet, deep red, pomegranate-flavored syrup used to color and flavor drinks and desserts. Originally, grenadine was made from pomegranates grown on the island of Grenada in the Caribbean. Now other fruit-juice concentrates are also used to make the syrup.
Copyright © 2005 Pippa Cuthbert and Lindsay Cameron Wilson. Reprinted from JUICE!. Copyright by Good Books (www.goodbks.com). Used by permission. All rights reserved.