Mint Orange Agave Cooler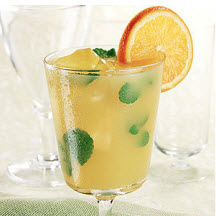 This refreshing, sugar-free cooler, created by Chef Scott Uehlein, is sweetened with agave nectar, a naturally-occurring sweetener that has a lower glycemic index value than other sweeteners.
Recipe Ingredients:
8 fresh mint leaves
1/3 cup ice
1/2 cup orange juice
2 tablespoons fresh lime juice
2 tablespoons agave nectar*
1/4 cup water

Cooking Directions:
Place mint leaves in the bottom of the glass. With the back of a spoon, bruise mint to break up slightly to release flavor. Add ice.
Combine all remaining ingredients, stir and pour over mint and ice.
Makes 1 (8-ounce) serving.
Cook's Tip: Mix 1/4 cup sugar with 1 tablespoon chopped mint leaves. Stir. Pour onto plate. Wet rim of glass and dip into mixture prior to adding drink. Adds more of that great minty flavor to this drink.
*Agave nectar is available at supermarkets and natural foods stores.
Recipe created by Chef Scott Uehlein, corporate chef of Canyon Ranch Health Resorts and SpaClubs.
Recipe and photograph provided courtesy of the Florida Department of Citrus, through ECES, Inc., Electronic Color Editorial Services.