Pomegranate Berry Smoothies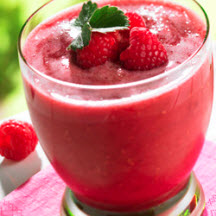 Pomegranates are only in season September to February, but their flavor and nutrition can be enjoyed year-round!
Recipe Ingredients:
2 cups Ocean Spray® Cran·Pomegranate™ Cranberry Pomegranate Juice Drink
1 cup frozen unsweetened red raspberries
1 cup strawberry sorbet
Cooking Directions:
Combine cranberry pomegranate juice drink and raspberries in large blender. Blend on high speed for 15 seconds or until smooth and slushy. Add sorbet. Blend on medium speed for 5 seconds or until mixed.
Makes 2 servings.
Recipe and photograph provided courtesy of Ocean Spray; through ECES, Inc., Electronic Color Editorial Services.