Red Cherry Smoothie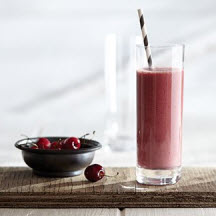 Smoothies can be a convenient, on-the-go, energy-boosting breakfast for adults and kids alike.
Recipe Ingredients:
1/2 cup low-fat cherry yogurt
1 cup fresh strawberries, quartered
2/3 cup red grapes
1 cup fresh cherries, pitted
1/2 cup cherry juice
Cooking Directions:
Place all ingredients into Vitamix S30 (blender) container in the order listed and secure lid. Turn the dial to 1 and slowly increase speed to 10. Blend for 35 seconds or until desired consistency is reached.
Makes 3 1/2 cups.
Recipe and photograph provided by Vitamix.com via Brandpoint Content; Copyright 1996-2015.