Smoothie Starter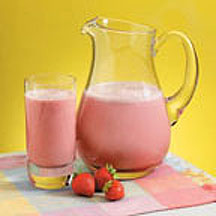 This smoothie is a cool and easy way to start the day with 10 grams of protein from egg whites.
Recipe Ingredients:
1/3 cup AllWhites, 100 percent liquid egg whites
3/4 cup orange, pineapple, apple or cranberry juice
Cooking Directions:
Place the AllWhites and juice in a food blender and mix well.
Makes 1 serving.
Tip: For a thicker shake, add bananas, strawberries, plain yogurt and/or a couple of ice cubes to the blender.
Nutritional Information Per Serving (1 recipe): Calories: 120, Fat: 0 g, Cholesterol: 0 mg, Sodium: 137 mg, Carbohydrate: 19 g, Dietary Fiber: 1 g, Protein: 10 g.
Recipe and photograph provided courtesy of www.allwhites.com; through ARA Content.