Strawberry Rhubarb Parfloat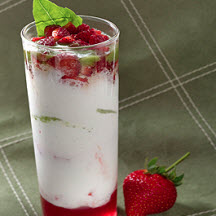 Recipe courtesy of California Strawberry Commission.
Recipe Ingredients:
Rhubarb Syrup:
2 pounds rhubarb, trimmed and cut into 5-inch pieces
2 cups granulated sugar
Orange Milk:
3 oranges
3 cups milk
3 tablespoons granulated sugar
Basil Syrup:
1 cup granulated sugar
3/4 teaspoon corn syrup
1/4 teaspoon vitamin C powder
3/4 cup Thai or Italian basil leaves, loosely packed
1/2 pound fresh California strawberries, stemmed and diced
Sugar, as needed
1 1/2 pints vanilla extract bean ice cream
1 1/2 cups seltzer
6 basil sprigs
Cooking Directions:
To Make Rhubarb Syrup: In heavy-bottomed saucepan, heat rhubarb and sugar with 2 tablespoon water over low heat, covered, about 10 minutes or until rhubarb is soft, stirring occasionally. Strain syrup through fine strainer or colander lined with cheesecloth. Refrigerate.
To Make Orange Milk: Remove zest (orange part of skin) from oranges with vegetable peeler. In saucepan, heat milk and zest to just below boil; remove from heat and steep, covered, 1 hour. Strain; add sugar. Refrigerate.
To Make Basil Syrup: In saucepan, simmer sugar, corn syrup and vitamin C with 1/2 cup water until slightly thickened. Cool. In blender, purée syrup with basil and pinch of salt; strain through fine strainer. Refrigerate.
Sweeten strawberries with sugar to taste. For each serving, in chilled 16-ounce glass, layer 1/4 cup Rhubarb Syrup, 2 tablespoons Diced Strawberries, 2 (1/4-cup) scoops ice cream, 1/2 cup Orange Milk, and 2

more tablespoons Diced Strawberries. Add 1/4 cup seltzer; drizzle with 2 tablespoons Basil Syrup. Garnish with 1 basil sprig.
Makes 6 servings.
Nutritional Information Per Serving (1/6 of recipe): Calories: 665; Total Fat: 12g; Cholesterol: 41mg; Total Carbs: 138g; Fiber: 4g; Protein: 8g; Sodium: 109mg.
Recipe and photograph courtesy of California Strawberry Commission. Used with permission.