White House Eggnog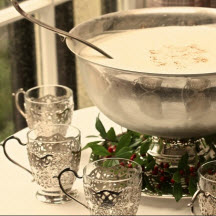 This recipe for White House Eggnog was submitted by L. Jamison.
Recipe Ingredients:
2 quarts purchased eggnog
1 cup bourbon
1/2 cup light rum
1/2 cup brandy
1 tablespoon vanilla extract
1 teaspoon freshly grated nutmeg
1 quart eggnog-flavored ice cream
Cooking Directions:
In large container, combine the eggnog, bourbon, rum, brandy, vanilla and nutmeg, mixing well. Refrigerate until just before serving.
At serving time, pour the eggnog into a punch bowl. Scoop small chunks the ice cream and float in the eggnog.
Makes 28 (1/2-cup) servings.