Apple Pull-Apart Bread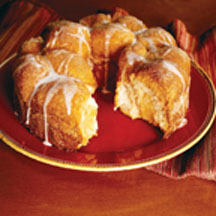 If there's anything better than the smell of bread baking, it's the aroma of bread spiced with cinnamon and sweetened with apple. Apple Pull-Apart Bread is fast and easy to make - and fun to eat, too, with a delicious taste surprise in every bite.
Recipe Ingredients:
1 (21-ounce) can COMSTOCK® or WILDERNESS® More Fruit Apple Fruit Filling
2 (1-pound 3-ounce) packages refrigerated biscuits
1/2 cup granulated sugar
1/2 teaspoon ground cinnamon
Icing:
1 tablespoon confectioners' (powdered) sugar
1 tablespoon milk
1/4 teaspoon vanilla extract
Cooking Directions:
Preheat oven to 400°F (205°C). Lightly grease a 10-inch tube pan.
In food processor, chop fruit filling by pulsing several times.
Flatten each biscuit into a 5 to 6-inch circle.
Spoon about 2 tablespoons fruit filling onto each biscuit and seal edges to form a ball.
In a small bowl, combine sugar and cinnamon.
Roll each biscuit ball in sugar mixture.
Make 2 rings of biscuits in tube pan and sprinkle with remaining sugar mixture.
Bake for 55 minutes, covering biscuits with foil after 20 minutes of baking time.
Cool on wire rack 5 minutes; loosen biscuits from edge of pan and remove from pan.
For Icing: In a small bowl, combine confectioners' sugar, milk and vanilla; mixing well. Drizzle over warm biscuits. Serve.
Makes: 12 servings.
Recipe and photograph provided courtesy of Comstock® Wilderness®; through ECES, Inc., Electronic Color Editorial Services.