Baking Powder Biscuits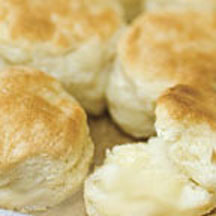 This is the recipe for making classic, old-fashioned homemade, sweet milk baking powder biscuits. For a tender biscuit with a slight tangy flavor, check out the recipe for a down-home southern favorite, Buttermilk Biscuits.
Recipe Ingredients:
2 cups unbleached all-purpose flour
1 tablespoon baking powder
1 teaspoon granulated sugar
1 teaspoon salt
1/3 cup vegetable shortening
About 3/4 cup milk
Melted butter for brushing tops of biscuits
Cooking Directions:
Preheat oven to 425°F ( 220°C).
In a mixing bowl, combine flour, baking powder, sugar and salt. Cut in the shortening using a pastry blender until the mixture resembles coarse corn meal.
Using a fork, stir in just enough milk so that dough leaves side of bowl and rounds up into a ball. (Too much milk will result in sticky dough, too little and biscuits will be dry.)
Turn dough out onto a lightly floured surface and knead lightly a few times, about 30 seconds.
Roll to 1/2 to 3/4-inch thickness and cut with a floured 2-inch biscuit or cookie cutter. Place on a lightly greased baking sheet about 1-inch apart for crusty sides, or together for soft sides.
Brush tops liberally with melted butter.
Bake 12 to 14 minutes or until lightly browned. Remove immediately from baking sheet and serve hot.
Makes 1 dozen biscuits.
Tip: There's no law that says biscuits have to be round. For quicker, easier biscuits, roll dough into a 1/2 to 3/4-inch thick rectangle and cut evenly into square biscuits. This eliminates having to re-roll the scraps when using a biscuit cutter.