Biscuits with Variations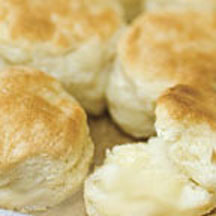 A quick bread that's not just for breakfast, biscuits piping hot from the oven can brighten any meal.
Recipe Ingredients:
2 cups all-purpose flour
1 tablespoon baking powder
1 tablespoon granulated sugar
1/2 to 1 teaspoon kosher or sea salt
1/4 cup vegetable shortening
3/4 cup milk
Cooking Directions:
Preheat oven to 425°F (220°C).
Combine flour, baking powder, sugar and salt in mixing bowl. Cut shortening into flour mixture with a pastry blender until mixture resembles fine crumbs. Make a well and add milk all at once. Stir quickly with a fork just until dough leaves side of bowl and rounds up into a ball.
Turn dough onto lightly floured surface. Knead lightly 10 to 12 times. Roll or pat dough 1/2-inch thick. Cut with a floured 2 1/2-inch biscuit cutter; cut dough straight down without twisting. (Uneven pressure will cause biscuits to be asymmetrical.) Place on ungreased baking sheet about 1-inch apart for crusty sides, or touching if your prefer soft sides.
Bake for 10 to 12 minutes or until golden brown. Remove from baking sheet immediately and serve hot.
Makes 10 biscuits.
Variations:
Buttermilk Biscuits: Decrease baking powder to 2 teaspoons and add 1/4 teaspoon baking soda with the salt. Substitute buttermilk for the milk, using slightly more than 3/4 cup if buttermilk is thick.

Cheese Biscuits: Stir 1/2 cup shredded sharp cheddar cheese into flour mixture just before adding milk.

Cornmeal Biscuits: Substitute 1/2 cup cornmeal for 1/2 cup of the flour. Sprinkle cornmeal over biscuits just before baking, if desired.

Drop Biscuits: Increase milk to 1 cup. Drop dough by tablespoonfuls onto greased baking sheet.
Tip: For quicker, easier biscuits, roll dough into a 1/2 to 3/4-inch thick rectangle and cut evenly into square biscuits. This eliminates having to re-roll the scraps when using a biscuit cutter.