Bread Machine New York-Style Homemade Bagels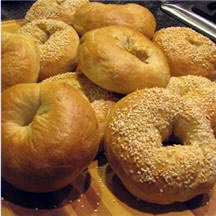 This is how bagels are suppose taste, along with having the perfect texture you can only get from a "boiled first, then baked" bagel. You'll never be content eating another mass-produced commercial bagel again. Although making homemade bagels may appear to be complicated, it really isn't, especially when a bread machine is used to make the dough, which eliminates much of the work.
Recipe Ingredients:
Dough:
1 1/2 cups warm water (110°F to 115°F | 45°C )
1 tablespoon granulated sugar
1 tablespoon vegetable oil
2 teaspoons malt syrup or powder
2 teaspoons kosher or sea salt
4 1/2 cups unbleached bread flour
1 tablespoon dry active yeast
Kettle Water:
Water, as needed
2 tablespoons malt syrup or powder
1 teaspoon kosher or sea salt
Optional Toppings:
Sesame seeds, poppy seeds, minced fresh garlic, minced fresh onion, caraway seeds, coarse salt, shredded cheese, chopped fresh herbs, etc.
Cooking Directions:
Place dough ingredients in bread pan in the order as listed. Select the dough cycle, and press start. Stop the machine once the first kneading cycle* is complete and allow the dough to rest in the pan with the lid of machine closed for about 15 minutes.
Divide dough into 8 sections and form each section into 10-inch long strips. Form into rings, pitching the ends together to seal. Place on a lightly floured surface, cover, and let bagels rest 15 to 20 minutes while they rise and become just slightly puffy.
For Kettle Water: Meanwhile, fill a large cooking pot three quarters full with water. Add the malt syrup or powder and salt. Bring water to a boil.
Preheat oven to 450°F (230°C). Grease two large baking sheets and sprinkle lightly with corn meal, tamping bottom of pans to spread evenly and to remove excess corn meal, as needed. Set aside.
Line either the countertop near your stove with a kitchen towel, or line a large baking sheet with kitchen towel and place near the stove. Reduce the boiling water to a simmer and cook 2 bagels at a time (do not crowd the pot). Simmer bagels for about 45 seconds on one side, then turn and cook other side for another 45 seconds, remove and drain bagels on the towel-lined countertop or baking sheet.
Carefully transfer bagels to prepared baking sheets. If desired, sprinkle with the toppings of your choice.
Place in the preheated oven and reduce heat to 425°F (220°C), and bake about 17 to 20 minutes, or until golden brown.
Transfer bagels to wire rack to cool completely.
Makes 8 bagels.
*The first kneading cycle is after the initial "mixing" cycle.
Storage Suggestion: To store in freezer, first carefully slice cooled bagels in half with a serrated bread knife, place a small piece of plastic between the bagel halves and then place bagels in a plastic zipper-style freezer bag. When you're ready to enjoy a bagel, the two halves will come apart easily, ready to toast without having to pry apart or thaw...best of all, it will have that fresh, just baked taste and texture.
Nutritional Information Per Serving (1/8 or recipe; or 1 bagel without toppings): 310.5 calories; 8% calories from fat; 3.1g total fat; 0.0mg cholesterol; 487.2mg sodium; 113.5mg potassium; 59.5g carbohydrates; 2.2g fiber; 1.8g sugar; 57.3g net carbs; 9.9g protein.
Recipe and photograph by Hope Cantil; copyright © 1999; property of CooksRecipes.com. See Terms of Use.