Caramel Glazed Cinnamon Rolls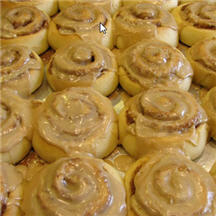 There's just something comforting about the heavenly aroma of homemade cinnamon rolls baking in the oven. A yummy, caramel-flavored glaze tops big, soft and yeasty cinnamon rolls.
Recipe Ingredients:
Dough:
3/4 cup 2% milk
1/2 cup granulated sugar
1 1/4 teaspoons kosher or sea salt
1/2 cup butter
2 (0.25-ounce) packages active dry yeast or 4 1/2 teaspoons active dry yeast
1/3 cup warm water (105° to115°F | 40° to 45°C)
3 large eggs, at room temperature
5 1/2 to 6 cups all-purpose flour
Sugar-Cinnamon Mixture:
1 cup brown sugar, firmly packed
1 cup granulated sugar
1/2 cup butter, softened (if using food processor, use cold butter)
1/4 cup all-purpose flour
1 1/2 tablespoons ground cinnamon
1/2 cup chopped nuts (optional)
Caramel Glaze:
1/3 cup evaporated milk or heavy cream
2 tablespoons brown sugar, firmly packed
1 tablespoon butter
1 1/2 cups powdered sugar
1 teaspoon vanilla extract
Cooking Directions:
Method for Making Dough by Hand: Combine milk, sugar, salt and butter in a small saucepan. Heat over low heat until butter melts and sugar dissolves. Cool to lukewarm.
Dissolve yeast in warm water in a warmed mixing bowl. Add the lukewarm milk mixture, eggs and 3 cups flour. Beat on low speed of electric mixer for 1 minute, scraping bowl frequently. Stir in enough remaining flour to make dough easy to handle.
Turn dough onto lightly floured surface. Knead about 5 minutes or until smooth and elastic. Place in a greased bowl and turn greased side up. Cover and let rise in warm place about 1 1/2 hours or until doubled in size. (Dough is ready if indentation remains when touched.) Proceed at step 5.
Method for Making Dough in a Bread Machine: Add 3/4 milk, 1/3 cup boiling water, 1/2 cup granulated sugar, 1/2 cup melted butter and 1 1/4 teaspoons salt to bread pan, stirring to combine. Add 3 slightly beaten eggs and stir to combine. Add 5 1/2 cups all-purpose flour and 2 (0.25-ounce) packages active dry yeast or 4 1/2 teaspoons active dry yeast. Select the dough cycle and press start. When dough cycle is complete, proceed at step 5.
On a lightly floured surface, roll dough into a 10 x 30 x 1/4-inch rectangle.
For Sugar-Cinnamon Mixture: Place all ingredients in a bowl and combine until crumbly (or place in a food processor and use the pulse button just until crumbly). Spread mixture evenly over dough. Roll dough tightly to form a 30-inch roll, pinching the seam together (or lightly moisten the edge of the seam with water to help seal). Cut into 24 (1 1/4-inch) slices.
Place slightly apart on a greased 20 x 15 x 1-inch baking sheet (or use two 13 x 9-inch pans). Cover and let rise in warm place until doubled in size. About 1 hour.
Bake in a preheated oven at 350°F (175°C) for about 20 minutes or until lightly browned. Spread the Caramel Glaze over warm rolls.
To make Caramel Glaze: Combine evaporated milk (or cream), brown sugar and butter in a small saucepan. Over medium heat, cook, stirring constantly, just until mixture begins to boil. Remove from heat. Add powdered sugar and vanilla and whisk vigorously until smooth and creamy. (Glaze should be thin enough to drizzle, if necessary stir in an additional teaspoon or so of milk or cream if glaze is too thick.)
Makes 24 cinnamon rolls.
Nutritional Information Per Serving (1/24 of recipe): 326.0 calories; 29% calories from fat; 11.1g total fat; 49.7mg cholesterol; 1117.2mg sodium; 151.3mg potassium; 52.2g carbohydrates; 1.4g fiber; 28.0g sugar; 50.8g net carbs; 5.2g protein.
Recipe and photograph by Hope Cantil; copyright © 1999; property of CooksRecipes.com. See Terms of Use.