Carrot Cranberry Bread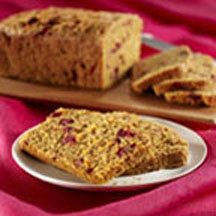 A delicious quick bread made wholesome with whole wheat, carrots and cranberries./p>
Recipe Ingredients:
1 1/2 cups bran fiber cereal
1 (14-ounce) can carrot slices, drained
1/2 cup buttermilk
1/3 cup lemon juice
1/4 cup vegetable oil
1 teaspoon grated lemon peel
2 large eggs
3/4 cup granulated sugar
1 2/3 cups all-purpose flour
1 cup whole wheat flour
2 teaspoons baking powder
2 teaspoons pumpkin pie spice
1/2 teaspoon baking soda
1/4 teaspoon salt
1 cup dried, fresh or frozen (thawed) cranberries, chopped
Cooking Directions:
Preheat oven to 350°F (175°C). Spray bottom of a 9 x 5 inch loaf pan with nonstick cooking spray.
Blend the cereal in a food processor; process until finely ground. Set aside.
In large mixing bowl, mash carrots with a fork. Stir in buttermilk, lemon juice, vegetable oil, lemon peel, eggs and sugar with the carrots; mix until well blended.
Stir in the flours, baking powder, pumpkin pie spice, baking soda and salt. Mix until dry ingredients are moistened.
Stir in crushed cereal and cranberries until blended.
Scrape batter into prepared pan.
Bake for 60 to 70 minutes or until a wooden pick inserted into center comes out clean. Cool 10 to 15 minutes; remove bread from pan. Cool completely on wire rack before cutting.
Makes 1 loaf.
Recipe and photograph provided courtesy of www.HowWheatWorks.com; through ARA Content.