Cherries and Cream Muffins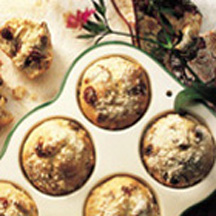 Tender, almond-flavored cream muffins practically bursting apart with cherries.
Recipe Ingredients:
2 1/2 cups frozen unsweetened tart cherries - divided use
1/2 cup butter or margarine
1 cup granulated sugar
2 large eggs
2 cups all-purpose flour
2 teaspoons baking powder
1/2 teaspoon salt
1/2 cup light cream, half-and-half or milk
1 teaspoon almond extract
1/2 teaspoon vanilla extract
Granulated sugar
Cooking Directions:
Cut cherries in halves while frozen. Set aside to thaw and drain.
In a large mixing bowl, beat butter and sugar until light and fluffy. Add eggs, almond extract and vanilla, beating well. Crush 1/2 cup cherries with a fork; add to batter.
Combine flour, baking powder and salt. Fold in half the flour with a spatula, then half the cream. Add remaining flour and cream. Fold in remaining cherry halves. Portion batter evenly into 12 paper-lined or lightly greased muffin cups (2 3/4-inches in diameter). Sprinkle with granulated sugar.
Bake in a preheated 375°F (190°C) oven 20 to 30 minutes, or until golden brown.
Makes 12 muffins.
Recipe and photograph are provided courtesy of the Cherry Marketing Institute.