Cherry-Crowned Almond Pear Gems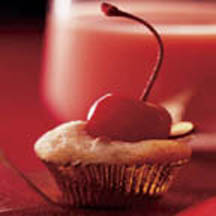 Pears and almonds team up with cherries for a delightful mini muffin treat.
Recipe Ingredients:
1 (10-ounce) jar (or 24 ) maraschino cherries with stems
1 (15.25-ounce) can pears in heavy syrup
3/4 cup granulated sugar
1/4 cup butter or margarine, melted
1 large egg
1 teaspoon almond extract
3/4 cup all-purpose flour
1/3 cup sliced almonds
Granulated sugar
Sliced almonds for garnish, optional
Cooking Directions:
Drain maraschino cherries. Pat dry with paper towels to remove excess moisture. Set aside. Drain pears and finely chop. Put chopped pears on paper towels to remove excess moisture. Set aside.
Combine 3/4 cup sugar, butter, egg and almond extract in a mixing bowl; beat with an electric mixer until smooth. Stir in flour; mix well. Fold in drained chopped pears and 1/3 cup almonds.
Spoon about 1 tablespoon batter into 24 paper-lined miniature muffin cups. Sprinkle with sugar. Place a drained maraschino cherry on top of each muffin.
Bake in a preheated 375°F (190°C) oven for 25 to 27 minutes, or until light golden brown on the edges. Let cool 5 minutes in pans. Remove to wire racks to cool completely.
Garnish each with a sliced almond, if desired. Store in a single layer in an airtight container.
Makes 24 mini-muffins.
Recipe and photograph provided courtesy of www.usacherries.com, through ECES, Inc., Electronic Color Editorial Services.