Cranberry Pumpkin Bread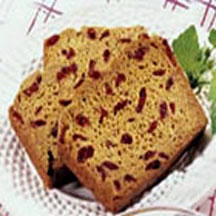 This delicious cranberry pumpkin bread is the perfect quick bread for fall and winter holidays.
Recipe Ingredients:
1 3/4 cups all-purpose flour
1 cup granulated sugar
2 teaspoons baking powder
1/2 teaspoon baking soda
1 teaspoon ground cinnamon
1/2 teaspoon ground nutmeg
1/2 teaspoon ground allspice
1 cup pumpkin purée
1/2 cup vegetable oil
2 large eggs
1 1/2 cups Ocean Spray® Fresh or Frozen Cranberries, coarsely chopped
Cooking Directions:
Preheat oven to 350°F (175°C).
Grease and flour an 8 1/2 x 4 1/2 x 2 1/2-inch loaf pan.
Combine dry ingredients in a medium mixing bowl. Combine remaining ingredients, except cranberries, in a separate mixing bowl. Add to dry ingredients, stirring just until dry ingredients are moist. Stir in cranberries.
Spread evenly in a loaf pan. Bake 1 1/2 hours or until a toothpick inserted into the center of the
bread comes out clean. Remove from pan. Cool completely on a wire rack.
Make 1 loaf.
Recipe and photograph provided courtesy of Ocean Spray Cranberries, Inc.