Cranberry Walnut Quick Bread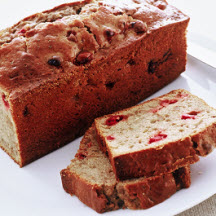 Recipe courtesy of Cranberry Marketing Committee.
Recipe Ingredients:
1 cup whole cranberries, thawed if frozen
2 cups all-purpose flour
3/4 cup granulated sugar
1/2 teaspoon salt
1 teaspoon orange zest
1 teaspoon allspice
1 1/2 tablespoons baking powder
1/4 teaspoon baking soda
1/4 cup orange juice
3/4 cup buttermilk
2 tablespoons canola oil
1 large egg
1/2 cup walnuts
Cooking Directions:
Preheat the oven to 350°F (175°C). Toast walnuts on a sheet pan for 8 to 10 minutes and allow to cool.
Bring all ingredients to room temperature. Prepare 8x4-inch loaf pan by greasing it with melted butter or pan spray.
Combine sugar, salt, eggs, orange juice, oil, buttermilk and orange zest in a medium bowl and mix thoroughly.
In a separate bowl, combine the flour, baking soda, baking powder and allspice. Add wet ingredients to the dry ingredients and mix just until incorporated. Stir in cranberries and walnuts just until evenly distributed through the batter.
Pour the batter into the loaf pan.
Bake for 45 minutes to 1 hour, until cake tester comes out clean when poked in the center.
Makes 1 loaf.
Recipe and photograph courtesy of Cranberry Marketing Committee.