Dried Cherry Muffins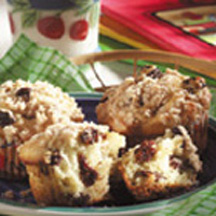 Streusel-topped, tender muffins filled with dried, sweet-tart cherries and pecans.
Recipe Ingredients:
Topping:
1/4 cup all-purpose flour
2 tablespoons granulated sugar
1/4 teaspoon ground cinnamon
1 tablespoon butter or margarine
Muffins:
1 1/2 cups all-purpose flour
1/2 cup granulated sugar
1 1/2 teaspoons baking powder
1/2 teaspoon baking soda
1/2 teaspoon salt
2 large eggs
2/3 cup sour cream
1/3 cup vegetable oil
1/3 cup milk
1 cup dried tart cherries
1/2 cup coarsely chopped pecans
Cooking Directions:
For the topping, combine flour, sugar and cinnamon in a small bowl; mix well. Cut in butter until mixture resembles coarse crumbs; set aside.
For the muffins, combine flour, sugar, baking powder, baking soda and salt in a large mixing bowl; set aside. In a large mixing bowl, combine eggs, sour cream, oil and milk. Beat with electric mixer at medium speed 2 minutes, or until combined. Add flour mix; beat just until combined. Stir in cherries and pecans. Portion batter evenly into 12 paper-lined or lightly greased muffin cups (2 3/4-inches in diameter). Sprinkle reserved crumb topping evenly over batter.
Bake in a preheated 375°F (190°C) oven 18 to 20 minutes, or until light brown.
Makes 12 muffins.
Recipe and photograph are provided courtesy of the Cherry Marketing Institute.