Flax Seed Bread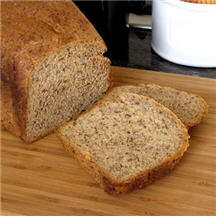 This outstanding flax seed bread is sure to become a family favorite. It has a softer texture than most whole grain breads, and a mild, nutty flavor that makes it an ideal everyday bread that is terrific served as is, toasted or for making sandwiches.
Before using the flax seed, you must first grind it in a spice/coffee grinder or blender* to a coarse ground consistency, which also releases its inner phytonutrients. This recipe is written for bread machines.
Recipe Ingredients:
1 1/3 cups water
2 tablespoons canola oil
3 tablespoons honey
1 1/2 cups white bread flour
1 1/3 cups whole wheat bread flour
1/2 cup flax seed, coarsely ground
1 1/2 teaspoons kosher or sea salt
2 teaspoons active dry yeast
Cooking Directions:
Add ingredients to bread machine pan according to manufacturers directions.
Select Whole Grain or Basic White cycle and press Start.
Makes one (1 1/2 pound) loaf or 12 servings.
*Because my "coffee grinder" is a part of my coffee maker, I use my blender to grind the flax seed (a food processor will not work, it simply whirls the seeds around making a bit of dust in the "process"). I start out running the blender at its highest speed for a few seconds, then pulse just until a coarsely ground flour-like mixture is obtained, stopping at intervals to use a thin spatula to stir up around the bottom of the blender to prevent "packing".
Nutritional Information Per Serving (1/12 of recipe): 187.1 calories; 23% calories from fat; 5.1g total fat; 0.0mg cholesterol; 238.9mg sodium; 92.4mg potassium; 30.3g carbohydrates; 2.7g fiber; 4.5g sugar; 27.5g net carbs; 5.4g protein.
Recipe and photograph by Hope Cantil; copyright © 1999; property of CooksRecipes.com. See Terms of Use.