Grain-Free Honey-Soaked Pistachio Donuts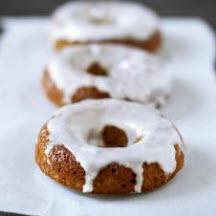 Made with ground pistachios and almond flour, these baked, gluten-free iced donuts will satisfy a sweet tooth any time of the day!
Recipe Ingredients:
Donuts:
1/2 cup shelled, salted pistachios, finely ground to a flour
3/4 cup almond flour
1 teaspoon baking powder
1/2 teaspoon ground cinnamon
3 large eggs
1/4 cup butter, melted
3 tablespoons honey
1/2 teaspoon vanilla extract

Honey Soak:
1/4 cup honey
1/2 tablespoon butter
1/2 teaspoon vanilla extract
Icing:
1/2 cup powdered sugar
About 1 tablespoon milk
Cooking Directions:
For Donuts: Preheat oven to 350°F (175°C). Spray a donut pan generously with cooking spray; set aside.
Combine pistachio and almond flours, baking powder and cinnamon in a medium bowl.
In a small bowl, combine eggs, 1/4 cup melted butter, 3 tablespoons honey and 1/2 teaspoon vanilla. Add egg mixture to dry ingredients; stir well to combine.
Fill prepared donut pan cups 3/4-full with batter.
Bake at 350°F (175°C) for 10 to 13 minutes or until golden brown. Cool slightly; remove from tins to a wire rack. Cool.
For Honey Soak: Heat honey, 1 tablespoon butter and 1 teaspoon vanilla in a small saucepan until warm and combined. Pour mixture onto a plate or shallow dish. Carefully dip tops of donuts in honey mixture; return to wire rack. Allow mixture to soak into donuts and cool.
For Icing: Combine powdered sugar and milk on a plate or shallow dish. Carefully dip tops of donuts in icing mixture. Allow to set.
Makes 9 to 10 donuts.
Recipe and photograph courtesy of the National Honey Board.