Pistachio Nut Bread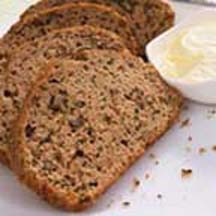 Little powerhouses of vitamins and antioxidants, pistachios are a festive, flavorful and a fantastic 'green' addition to this delicious, low-fat quick bread.
Recipe Ingredients:
1 cup all purpose flour, unbleached, sifted
1 teaspoon baking soda
1 teaspoon salt
1/8 cup sliced almonds, chopped
1/4 cup shelled pistachios, chopped
1/8 cup raw sunflower seeds, shelled
1/4 cup nonfat dry milk powder
1 cup whole wheat flour
1/2 cup seedless raisins
1 tablespoon grated orange peel
1 medium egg, beaten
1 cup low-fat buttermilk
2 tablespoons walnut oil
Cooking spray

Cooking Directions:
Preheat oven to 375°F (190°C). Spray two small loaf pans with cooking spray.
Mix together the flour, baking soda, salt, nuts, dry milk, whole wheat flour, raisins and orange zest in a bowl.
In a separate bowl, mix together the egg, buttermilk and walnut oil. Combine with the flour mixture.
Transfer the batter into loaf pans and bake for 50 minutes.
Makes 12 servings.
Nutrititional Information Per Serving (1/12 of recipe): Calories 123, Fat 5g, Saturated Fat 1g, Unsaturated Fat 4g, Sodium 334mg, Potassium 115mg, Carboydrates 17g, Dietary Fiber 2g, Sugars 2g, Protein 5g, Dietary Exchanges 1 Fat, 1 Starch.
Recipe and photograph provided courtesy of DLife; through ECES, Inc., Electronic Color Editorial Services.