Poppy Seed Dinner Rolls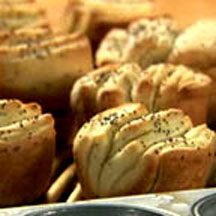 The heavenly aroma of these homemade rolls, that will scent the air of your home as they bake, go hand-in-hand with their amazing taste!
Recipe Ingredients:
2 (0.25-ounce) packages active dry yeast, or 4 1/2 teaspoons
1/3 cup plus 1/4 teaspoon granulated sugar - divided use
1 cup warm water
2/3 cup whole milk, room temperature
1/4 cup vegetable oil
1 large egg
1 tablespoon poppy seed
5 1/3 cup all purpose flour - divided use
1 cup unsalted butter, chilled
3 tablespoons unsalted butter, melted
Non-Stick spray
Extra Poppy seeds for garnish
Cooking Directions:
In a mixer bowl dissolve quick-rising dry yeast and sugar in warm water and let it stand until the mixture is slightly foamy.
Attach the dough hook to the mixer and turn to speed 2, add milk, oil, egg, sugar, poppy seeds and salt.
Mix well until everything is combined - about 30 seconds.
Gradually add flour to the batter and mix it until its smooth for about 1 minute
Combine flour and chilled butter in a food processor or you can use a pastry cutter until the mixture resembles a coarse meal add this to the batter in the mixing bowl.
Turn to speed 2 and mix until the dry ingredients are incorporated.
Knead on speed 2 until smooth, about 2 minutes longer.
Add up to 1/3 of a cup of flour more if the dough remains sticky.
Remove the bowl from the mixer and cover with a towel and let it rise in a warm place for 30 minutes or until the dough nearly doubles in size.
Now coat 2 (12-cup) muffin tins with non stick cooking spray or butter.
On a floured surface knead dough for about 4 minutes until the dough is smooth and elastic.
Divide the dough into 4 equal portions and place one portion on a floured surface and refrigerate the remaining portions.
Roll out the dough to a 12x12x1/8-inch rectangle.
Cut the dough lengthwise into 6 2-inch strips and stack the strips to form 6 layers.
Cut the stacks into 6 equal portions, each about 2-inch squares.
Place each stack on their edge, cut side down in the prepared muffin cups. Repeat with the remaining dough sections.
Cover with a towel and let the dough rise in a warm place for 30 minutes or until nearly doubles in size.
After it has risen preheat your oven to 350°F (175°C).
Brush the tops of the rolls with melted butter and sprinkle with poppy seeds.
Bake for 25 minutes in the oven for 7 to 10 minutes.
Makes 24 rolls.
Recipe provided courtesy of HolidayKitchen.tv. Photograph property of CooksRecipes.com.