Potato Bread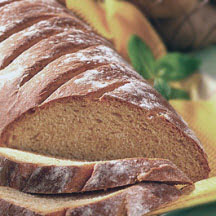 Recipe courtesy of the Idaho Potato Commission.
Recipe Ingredients:
2 large potatoes shredded or 2 cups mashed potatoes
1/2 cup warm milk
4 tablespoons brown sugar, packed
2/3 cup butter
4 teaspoons salt
2/3 cup brown sugar, packed
1 cup dry powdered milk
4 large eggs, beaten
6 cups all-purpose flour
2 tablespoons dry active yeast
Cooking Directions:
If using raw potatoes, shred the two potatoes and cook in 2/3 cup water until soft-about 5 minutes Reserve the remaining water to add to yeast in step 3. Mash cooked potatoes, and let cool. Or you may simply use any leftover mashed potatoes.
Mix butter, salt, brown sugar, packed, and dry milk, and add beaten eggs. Set aside.
Mix yeast with brown sugar, packed and water.
Add yeast mixture to egg and butter mixture, then add the mashed potatoes, and flour.
Knead mixture well, let rise 1 hour punch down dough, then form into loaves, and let rise again.
Bake 375°F (190°C) for 1 hour.
Makes 2 loaves; 20 servings.
Recipe and photograph courtesy of the Idaho Potato Commission.