Spiced Bran Muffins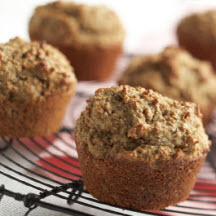 Recipe courtesy of The Soyfoods Council.
Recipe Ingredients:
2 cups all-purpose flour
1/2 cup soy flour
2 teaspoons baking soda
1 1/4 teaspoons ground cinnamon
1/4 teaspoon ground nutmeg
1 pinch ground allspice
1 1/2 teaspoons salt
2 cups toasted wheat bran
3/4 cup dried figs, chopped, soaked in hot water
1 cup boiling water
1/2 cup butter, room temperature
1 cup granulated sugar
1/2 cup honey
2 large eggs, large
2 cups buttermilk
Cooking Directions:
Preheat oven to 400°F (205°C). Line 24 muffin cups with muffin papers.
Stir flours, spices, baking soda and salt in a small bowl to blend. Combine bran and drained figs in another bowl. Mix boiling

water into the figs and bran.
Beat the butter in a large bowl until creamy. Gradually beat in sugar, then honey. Beat in eggs 1 at a time. Alternately, add buttermilk and flour mixtures in 3 additions. Mix in bran mixture.
Divide batter among lined muffin cups.
Bake until tester inserted into the center comes out clean, approximately 20 minutes. Turn muffins out onto cooling rack. Cool completely.
Makes 24 muffins.
Recipe and photograph courtesy of The Soyfoods Council.