Stovetop Potato Bread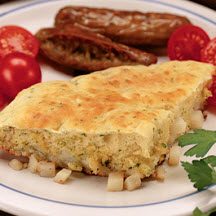 Recipe courtesy of the Idaho Potato Commission.
Recipe Ingredients:
1 pound Idaho potatoes, peeled and diced
4 tablespoons butter - divided use
2 cups all-purpose flour
1 1/2 teaspoons baking powder
1/2 teaspoon baking soda
1/2 teaspoon salt
1 cup buttermilk
1 large egg
1/4 cup chopped flat-leaf parsley (optional)
Cooking Directions:
Peel and dice potatoes. Place in a medium saucepan, cover with water and add salt. Bring to a boiling and cook until crisp-tender, about 4 minutes; drain and cool.
Melt 2 teaspoon of butter in a 10-inch heavy skillet; add potatoes and set aside.
In a medium mixing bowl, mix dry ingredients and parsley, if desired. Cut in remaining butter with a pastry blender or fork until the mixture resembles crumbs.
In a cup, whisk together the buttermilk and egg. Add buttermilk mixture to dry ingredients and stir well to combine.
With floured hands, divide dough into thirds. Mix one third into potatoes, pressing into pan.
On a lightly floured board, shape remaining dough into a patty to fit in skillet. Press dough patty onto potato mixture. Using a knife, mark top of dough into six wedges similar to pie slices, being careful not to cut all the way through the dough.
Cover skillet tightly and cook over medium heat about 18 minutes or until dough is firm.
In the meantime, preheat broiler.
Remove skillet lid and brown bread, uncovered, under the broiler for 2 to 3 minutes until golden.
Serve immediately.
Makes 6 servings.
Nutritional Information Per Serving (1/6 of recipe): Calories: 303; Total Fat: 9g; Cholesterol: 58mg; Total Carbs: 47g; Protein: 8g; Sodium: 542mg.
Recipe and photograph courtesy of the Idaho Potato Commission.