Sweet Potato, Apple and Walnut Muffins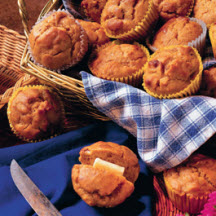 The tartness of apples and raisins combined with the sweetness of yams and flavorful walnuts create a moist muffin that will become one of your favorites.
Recipe Ingredients:
1 3/4 cups all-purpose flour
1 1/2 teaspoons baking powder
1 teaspoon ground cinnamon
3 tablespoons canola oil
3/4 cup packed light brown sugar
1 large egg
1 large egg white
1 (15-ounce) can sweet potatoes (or yams) or 1 cup fresh/cooked sweet potatoes, drained and mashed
1/2 cup skim milk
1 3/4 cups chopped, peeled baking apples
1/3 cup chopped walnuts
1/3 cup golden raisins
Cooking Directions:
Preheat oven to 400°F (205°C).
In a bowl, mix together the flour, baking powder and cinnamon; set aside.
In another bowl, mix together oil, brown sugar, egg, egg white, mashed yams and milk. Make a well I the center of the dry ingredients and add yam mixture, stirring until moistened. Do not over mix. Fold in the apples, walnuts and raisins.
Spoon batter into paper-lined or greased muffin tins, filling about 3/4 full.
Bake for 20 to 25 minutes or until done.
Makes 18 muffins.
Nutritional Information Per Serving (1/18 of recipe): Calories: 139; Calories From Fat: 22; Total Fat: 4g; Saturated Fat: 0g; Cholesterol: 12mg; Total Carbs: 23g; Fiber: 1g; Protein: 3g; Sodium: 65mg.
Created by Louisiana Sweet Potato Commission spokesperson, Holly Clegg.
Recipe and photograph provided courtesy of the Louisiana Sweet Potato Commission.