Aged Gruyère and Provolone-Stuffed French Toast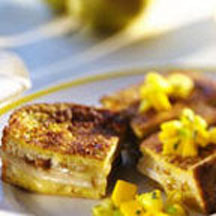 This is definitely not your ordinary everyday French toast, this version takes the classic dish to whole new level of texture and taste.
Recipe Ingredients:
Fruit Salsa:
4 cups fresh mango, diced, 1/4 inch
2 cups fresh pineapple, diced 1/4 inch
1 cup chopped fresh cilantro
1 or 2 jalapeño peppers, finely chopped
1/4 cup fresh lime juice
1/4 cup brown sugar, packed
French Toast:
24 slices homemade quality white or multi-grain bread, sliced
8 ounces Gruyère cheese, thinly sliced or shaved
8 ounces aged provolone cheese, thinly sliced or shaved
4 large fresh Anjou pears
3/4 cup pecans, coarsely chopped
12 large eggs, beaten
3/4 cup milk or water
6 ounces (1 1/2 sticks) butter, softened
Additional butter and maple syrup, for serving
Cooking Directions:
For the Fruit Salsa: Combine all the salsa ingredients; keep refrigerated until ready to serve.
For the Stuffed French Toast: Lay out 2 slices of bread per serving. Arrange Gruyère cheese on one side of each serving and the provolone cheese on the other. Divide the cheese equally between the 12 servings.
Cut the pear into 1/8-inch slices from top to bottom. Place a layer of pear slices on top of the cheese on one side of the sandwich. Sprinkle with the pecans. Cover with the other half of the sandwich so that the pears and nuts are sandwiched between the Gruyère and the provolone.
Beat the eggs and milk together.
Dip the sandwiches in the egg/milk mixture, allowing the mixture to soak in for a minute or two.
Spread the griddle with butter.
Grill the French toast sandwiches until golden brown on both sides and the cheese is melted.
Cut into quarters and serve with additional butter and maple syrup, with fruit salsa spooned on the side.
Makes 12 servings.
Recipe and photograph provided courtesy of Wisconsin Milk Marketing Board, Inc.