Apple-Bran Pancakes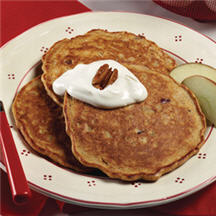 Serve these hearty apple and bran pancakes with maple syrup and vanilla yogurt, garnished with toasted pecan halves.
Recipe Ingredients:
6 large eggs
1 cup milk
3 tablespoon vegetable oil
1 cup shredded wheat bran cereal
1 cup whole wheat flour
2 teaspoons baking powder
1/2 teaspoon ground cinnamon
1/4 teaspoon salt
2 cups finely chopped peeled apples (about 2 medium)
1/4 cup chopped pecans
Maple syrup for accompaniment (optional)
Vanilla yogurt or sour cream for accompaniment (optional)
Toasted pecan halves for garnish (optional)
Cooking Directions:
Beat eggs, milk and oil in large bowl until blended. Stir in cereal; let stand until moistened, about 2 minutes.
Mix flour, baking powder, cinnamon and salt in small bowl. Add to egg mixture; stir just until dry ingredients are moistened. Fold in apples and pecans.
Heat a lightly greased large nonstick skillet or griddle over medium heat until hot. Reduce heat to medium-low. Pour 1/4 cup portions of batter into skillet; cook until golden brown, turning once.
Makes 4 servings.
Tips:
Always pre-heat skillet or griddle before cooking pancakes. Pan is hot when drops of water sizzle and dance on surface.

Cook pancakes in batches. Serve immediately or keep warm on a plate in a low (200°F) oven until all batter is used.

Batter will spread. Leave enough room between pancakes to allow for spreading.

For light pancakes, cook on first side until bubbles form on surface, then turn before bubbles break.
Nutritional Information Per Serving (1/4 of recipe): calories: 454; total fat: 24g; saturated fat: 5g; polyunsaturated fat: 9g; monounsaturated fat: 9g; cholesterol: 284mg; sodium: 464mg; carbohydrates: 46g; dietary fiber: 7g; protein: 18g; vitamin A: 559.0IU; vitamin D: 91.4IU; folate: 58.1mcg; calcium: 311.9mg; iron: 3.5mg; choline: 215.8mg
Recipe and photograph provided courtesy of the American Egg Board (AEB) and Egg Nutrition Center (ENC).