Banana Pistachio French Toast with Caramel Sauce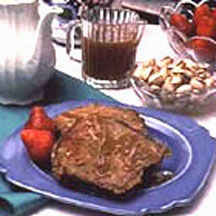 Here's a very special and deliciously sweet way to start the day. To save time, make the bread at least a day ahead.
Recipe Ingredients:
Pistachio Banana Bread:
1 cup granulated sugar
1/2 cup vegetable shortening
2 large eggs
1 tablespoon milk
2 cups all-purpose flour
1 teaspoon baking soda
1/4 teaspoon salt
1 cup mashed banana
1 cup natural California pistachios, coarsely chopped - divided use

Caramel Sauce:
1/2 cup butter
1 cup brown sugar, firmly packed
1/2 cup whipping cream

French Toast:
12 (3/4-inch) thick slices Pistachio Banana Bread
8 large eggs, well beaten
Butter for frying
Cooking Directions:
In large mixing bowl, beat sugar with shortening, eggs and milk until smooth.
Combine flour, baking soda and salt. Add to sugar/shortening mixture. Fold in bananas and 3/4 cup pistachios.
Turn into greased 8 1/2 x 4 1/2-inch loaf pan. Sprinkle remaining 1/4 cup pistachios on top.
Bake in a preheated oven at 350°F (175°C), for 1 hour or until a wooden pick comes out dry. (If necessary, cover bread loosely with foil when it gets to desired color, and continue baking.) Allow to cool completely before slicing for French toast. Makes 1 loaf or 12 slices.
For Caramel Sauce: Melt butter in saucepan. Stir in brown sugar and whipping cream. Cook over medium heat, stirring until blended and bring to a boil, reduce heat and simmer gently without stirring for 5 minutes. Makes 1 1/4 cups.
For French Toast: Cut 12 (3/4-inch) thick slices of pistachio banana bread. Dip bread slices in well beaten egg until saturated; fry in a buttered skillet until golden, turning once. Serve with Caramel Sauce.
Makes 6 (2 slice) servings.
Freezer Tip: Prepare Pistachio Banana French Toast, but once egg mixture is absorbed by bread slices, freeze on baking sheet, uncovered, until firm; then package airtight and return to freezer. To serve, place desired number of frozen slices on a lightly greased baking sheet. Brush each slice with melted butter. Bake in a preheated oven at 500°F (260°C), for 5 minutes. Turn slices over, brush with melted butter, and bake for 5 more minutes or until nicely browned.
Recipe provided courtesy of the California Pistachio Commission.