Banana Split French Toast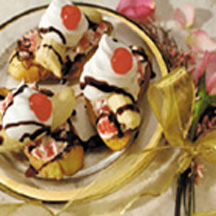 Breakfast, brunch or dessert? However you decide to serve this special French toast dish, it's sure to please.
Recipe Ingredients:
1 (10-ounce) jar maraschino cherries
1 (16-ounce) loaf French bread
1 (8-ounce) package cream cheese, softened
1/4 cup powdered sugar
3 large eggs
2/3 cup milk
2 tablespoons butter or margarine
4 large bananas
Prepared whipped topping
Chocolate-flavored syrup
Cooking Directions:
Drain cherries; discard juice or save for another use. Halve 8 cherries for garnish; set aside. Chop remaining cherries. Cut off and discard ends of bread; slice remaining loaf into 16 (1/2-inch) pieces.
Beat cream cheese and powdered sugar at medium speed until creamy; stir in chopped cherries. Set aside. Blend eggs and milk in a shallow bowl or pie plate.
Dip bread slices in egg mixture, coating both sides. Melt 1 tablespoon butter in a large skillet over medium heat. Cook bread slices in batches, using more margarine when needed. Cook until golden, turning to cook both sides.
Slice bananas in half lengthwise, then in half again crosswise. Gently spread 2 tablespoons cream cheese mixture onto each slice of French toast; top with banana quarter. Serve topped with whipped topping, reserved cherry halves; drizzle with chocolate syrup.
Makes 16 slices; 8 servings.
Recipe and photograph are provided courtesy of the Cherry Marketing Institute.