Basic Microwave Scrambled Eggs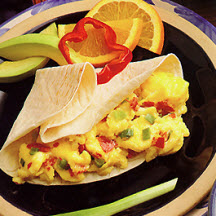 Microwave scrambled eggs done in less than 3 minutes. Add diced meat, shredded cheese or chopped veggies for a more interesting breakfast or snack.
Recipe Ingredients:
2 large eggs
2 tablespoons milk
Salt and ground black pepper
Cooking Directions:
Beat eggs, milk, salt and ground black pepper in microwave-safe bowl until blended.
Microwave on HIGH 45 seconds: stir. Microwave until eggs are almost set, 30 to 45 seconds longer. Serve immediately
Makes 1 serving.
Tips:
Top with a sprinkle of shredded cheese or fresh herbs.
For rich creamy scrambled eggs, add small cubes of cream cheese or a dollop of cottage cheese before cooking.
For added flavor, stir a bit of creamy salad dressing, pesto, salsa or your favorite herb into the egg mixture.
Nutritional Information Per Serving (1 recipe): Calories: 158; Calories From Fat: 14; Saturated Fat: 3g; Cholesterol: 425mg; Total Carbs: 2g; Fiber: 0g; Protein: 14g; Sodium: 153mg.
Recipe and photograph courtesy of the American Egg Board.