Beef Sticky Buns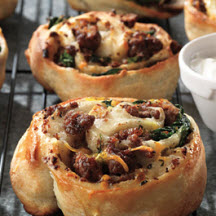 Recipe and photograph courtesy of The Beef Checkoff.
Recipe Ingredients:
Basic Country Beef Breakfast Sausage:
12 ounces ground beef (96% lean)
1 1/2 teaspoons chopped fresh sage or 1/4 teaspoon rubbed sage
3/4 teaspoon garlic powder
3/4 teaspoon onion powder
1/4 teaspoon salt
1/8 to 1/4 teaspoon crushed red pepper
Beef Sticky Buns:
1 cup sliced button mushrooms
3/4 cup diced onion
3 cups fresh baby spinach
1/2 cup shredded cheddar cheese
1 (13.8-ounce) package refrigerated pizza dough
1/2 cup jalapeño pepper jelly, warmed (optional)
Cream Cheese "Frosting": (optional)
1/4 cup cream cheese, softened
1 tablespoon milk
Cooking Directions:
For Basic Country Beef Breakfast Sausage: Combine ingredients in a large bowl. Heat large non stick skillet over medium high

heat until hot. Add beef mixture. Add mushrooms and onion to beef mixture; cook 8 to 10 minutes, breaking into 1/2-inch crumbles.
For Beef Sticky Buns: Add spinach to skillet; stir to wilt spinach. Set mixture aside 20 to 25 minutes or until mixture is cooled completely, stirring occasionally. Stir in cheese.
Preheat oven to 425°F (220°C).
Unroll pizza dough on flat surface; pat or roll dough evenly to 14x10-inch rectangle, pinching together any tears, if necessary. Spread Country Beef Breakfast Sausage mixture on dough, leaving 1/2-inch border on short side furthest from you. Starting at closest short end, roll up jelly-roll style, pinching to close. Slice dough into 8 pieces using serrated knife and careful sawing motion; place cut-side-up on greased baking sheet.
Bake in 425°F (220°C) oven 18 to 20 minutes or until golden brown. Remove buns to cooling rack.
While still warm, drizzle with melted jalapeño pepper jelly or cream cheese "frosting", if desired.
For Cream Cheese "Frosting"; Combine 1/4 cup softened reduced-fat cream cheese and 1 tablespoon milk in small bowl, stirring

until smooth. Drizzle over warmed beef rolls.
Makes 4 servings.
Recipe and photograph courtesy of The Beef Checkoff.