Blackberry Breakfast Bars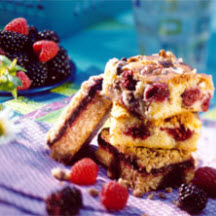 These fruit-filled breakfast bars make great addition to a family gathering for brunch.
Recipe Ingredients:
Filling:
2 cups blackberries (or raspberries)
2 tablespoons granulated sugar
2 tablespoons water
1 tablespoon lemon juice
1/2 teaspoon ground cinnamon
Bars:
1 cup all purpose flour
1 cup quick cooking rolled (old-fashioned) oats
2/3 cup brown sugar, packed
1/4 teaspoon ground cinnamon
1/8 teaspoon baking soda
1/2 cup butter or margarine, melted
Cooking Directions:
For Filling: In a medium saucepan combine berries, sugar, water, lemon juice and cinnamon. Bring to a boil. Reduce heat. Simmer, uncovered, for about 8 minutes or till slightly thickened, stirring frequently. Remove from heat; set aside.
Preheat oven to 350°F (175°C).
For Bars: In a mixing bowl stir together flour, oats, brown sugar, packed, cinnamon, and baking soda. Stir in melted butter until thoroughly combined. Set aside 1 cup of the oat mixture for topping. Press remaining oat mixture into an ungreased 9x9x2-inch pan. Bake for 20 to 25 minutes.
Carefully spread filling on top of baked crust. Sprinkle with reserved oat mixture. Lightly press reserved oat mixture into filling.
Bake in the 350°F (175°C) oven for 20 to 25 minutes more or until topping browns.
Cool in pan on a wire rack. Cut into bars.
Makes 18 servings.
Recipe and photograph courtesy of the Oregon Raspberry and Blackberry Commission.