Breakfast Egg Spread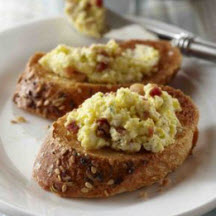 Paired with toasted baguette slices, this creamy hard-boiled egg spread is perfect for breakfast or brunch.
Recipe Ingredients:
6 hard-boiled eggs, peeled
1/4 cup refrigerated ranch dip
2 tablespoons minced green onion
1/4 teaspoon salt
1/4 teaspoon ground black pepper
2 tablespoons chopped fully-cooked bacon*
Whole grain baguette slices or bagels, toasted
Cooking Directions:
Place eggs, ranch dip, green onion, salt and pepper in food processor. Pulse until finely chopped. Spoon into serving bowl. Top with bacon.
Serve with toasted bagels or baguette slices.
Makes about 1 3/4 cups.
*Or substitute with fully-cooked ham or breakfast sausage.
Tips:
Very fresh eggs can be difficult to peel. To ensure easily peeled eggs, buy and refrigerate them a week to 10 days in advance of cooking. This brief "breather" allows the eggs time to take in air, which helps separate the membranes from the shell.
Hard-boiled eggs are easiest to peel right after cooling. Cooling causes the egg to contract slightly in the shell.
To peel a hard-boiled egg: Gently tap egg on counter-top until shell is finely crackled all over. Roll egg between hands to loosen shell. Starting peeling at large end, holding egg under cold running water to help ease the shell off.
Try this low-fat alternative: Beat 1 egg in medium bowl. Stir in 2 cups mashed potatoes (cooked slightly) or 2 cups cooked rice. Press mixture over bottom and sides of lightly greased 9-inch pie plate. Bake as directed above.
Nutritional Information Per Serving (3 tablespoons or 1/6 of recipe using bacon; does not include bread accompaniment): Calories: 21; Total Fat: 1 g (Saturated fat: 1 g; Polyunsaturated fat: 0 g; Monounsaturated fat: 0 g); Cholesterol: 40 mg; Sodium: 60 mg; Carbohydrates: 0 g; Dietary Fiber: 0 g; Protein: 2 g; Vitamin A: 62.4 IU; Vitamin D: 8.8 IU; Folate: 5.3 mcg; Calcium: 9.3 mg; Iron: 0.2 mg; Choline: 26.9 mg.
Recipe and photograph provided courtesy of the American Egg Board.