Breakfast Polenta Crostini with Ham & Wisconsin Asiago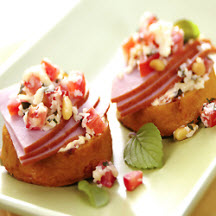 This recipe was featured at the International Association of Culinary Professionals breakfast. The assembly for this dish takes a little time, but makes a pretty and tasty meal. Polenta is a staple in northern Italy made from cornmeal and makes for a hearty breakfast and can often be found either in the produce refrigerated section or in a speciality area of a large supermarket.
Recipe Ingredients:
9 thin slices ham
2 (11-ounce) tubes refrigerated polenta with sun-dried tomato
3/4 cup Wisconsin Asiago cheese, shredded
1 large roma tomato, seeded and chopped
2 tablespoons pine nuts, toasted and coarsely chopped
2 tablespoons fresh basil, snipped or 1/2 teaspoon dried basil
2 tablespoons sun-dried tomato-flavored mayonnaise
Nonstick cooking spray, as needed
Cooking Directions:
Preheat oven to 400°F (205°C).
Coat a baking sheet with nonstick cooking spray. Slice each tube of polenta into 6 slices. Arrange slices on baking sheet. With a small spoon, scoop out shallow depression in each slice. Spray slices light with nonstick cooking spray. Bake for 20 minutes.
In a small bowl, combine Asiago cheese, Roma tomato, pine nuts, and basil. Set aside. Stack three slices of ham and cut into quarters, keeping stacks intact. Repeat twice.
To assemble, spoon some of the cheese mixture into depressions in polenta slices. Top each polenta slice with about 1/2 teaspoon of the tomato-flavored mayonnaise. Add a stack of ham slice quarters to each polenta slice. Top each with some of the remaining cheese mixture. Return the crostini to oven and heat 2 to 3 minutes or until cheese is slightly melted.
Makes 12 servings.
Recipe and photograph provided courtesy of National Pork Board.