Easy, Elegant Asparagus Poach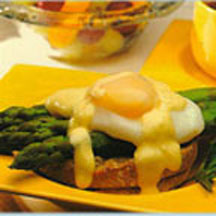 An elegant, low-fat dish wonderful for a special breakfast, brunch or dinner.
Recipe Ingredients:
1/4 cup non-fat mayonnaise-style dressing
2 tablespoons plain non-fat yogurt
1 1/2 teaspoons lemon juice
1/8 teaspoon Italian seasoning or fines herbes, crushed
Water
2 large eggs
6 spears (5 to 7 ounces) fresh asparagus or 1/2 package (10 ounces) frozen asparagus spears, cooked and well drained
1 whole-wheat English muffin, split and toasted
Cooking Directions:
In small bowl, stir together dressing, yogurt, lemon juice and seasoning until well blended.
Set aside.
In saucepan or deep omelet pan or skillet, bring 2 to 3 inches of water to boiling.
Reduce heat to keep water gently simmering.
Break cold eggs, one at a time, into custard cup or saucer or break several into bowl.
Holding dish close to water's surface, slip eggs, one by one, into water.
Cook until whites are completely set and yolks begin to thicken but are not hard, about 5 minutes.
With slotted spoon, lift out eggs.
Drain in spoon or on paper towels and trim any rough edges, if desired.
Place 3 of the cooked asparagus spears on each muffin half.
Top each with a poached egg and about 2 1/2 tablespoons of the reserved sauce.
Makes 2 servings.
Nutritional Information Per Serving (1/2 of recipe using Italian seasoning): 185 calories, 6 gm total fat, 212 mg cholesterol, 482 mg sodium, 281 mg potassium, 22 gm carbohydrate, 11 gm protein and 10% or more of the RDI for vitamins A and C, niacin, riboflavin, iron, phosphorus.
Recipe and photograph provided courtesy of the American Egg Board (AEB) and Egg Nutrition Center (ENC).