Eggnog French Toast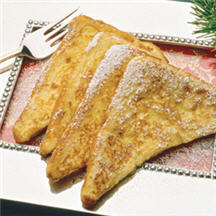 An easy holiday breakfast, French toast made with purchased eggnog and served with warm cherry pie filling.
Recipe Ingredients:
6 large eggs
1 1/2 cups eggnog
12 slices day-old thick-cut bread (about 1 1/2-inches thick)
Suggested Toppings:
Cherry pie filling, warmed for accompaniment
Maple syrup
Cooking Directions:
Preheat oven to 350°F (175°C).
Beat eggs and eggnog in medium bowl until blended.
Pour 1/2 of the egg mixture into 13x9x2-inch baking pan. Place 6 bread slices in pan; turn slices over and let stand until egg mixture is absorbed. Place bread in single layer on greased baking sheet.
Repeat with remaining egg mixture and bread, using a second baking sheet.
Bake in preheated oven, turning once, until browned on both sides and no visible liquid egg remains, about 30 minutes.
Serve topped with warm cherry pie filling or maple syrup.
Makes 6 servings.
Nutritional Information Per Serving (1/6 of recipe): calories: 260; total fat: 9g; saturated fat: 4g; polyunsaturated fat: 2g; monounsaturated fat: 3g; cholesterol: 223mg; sodium: 446mg; carbohydrates: 31g; dietary fiber: 1g; protein: 13g; vitamin A: 400.8IU; vitamin D: 72.1IU; folate: 79.6mcg; calcium: 186.1mg; iron: 2.9mg; choline: 166.0mg.
Recipe and photograph provided courtesy of the American Egg Board (AEB) and Egg Nutrition Center (ENC).