Grab and Go Breakfast Cherry Calzones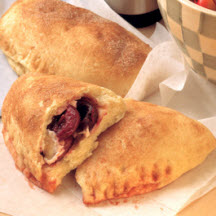 Recipe courtesy of Washington State Fruit Commission.
Recipe Ingredients:
Cinnamon Sugar: (optional)
1/4 cup granulated sugar
1 teaspoon ground cinnamon
Cherry Calzones:
1 (16-ounce) package hot roll mix*
2 cups pitted and halved Northwest fresh sweet cherries
1/2 cup granulated sugar
2 tablespoons lemon juice
1 teaspoon grated lemon peel
1 teaspoon ground cinnamon
4 ounces low-fat cream cheese
1/2 teaspoon almond extract
3 tablespoons toasted sliced almonds
2 tablespoons milk
Cooking Directions:
For Cinnamon Sugar: If using, mix sugar and cinnamon together; set aside.
For Cherry Calzones: Prepare hot roll mix according to package directions.
Combine cherries, sugar, lemon juice, lemon peel and cinnamon. Set aside. Mix cream cheese and almond extract.
Divide dough into 8 equal pieces.
Flatten into 6-inch rounds.
Spoon 1/4 cup cherry mixture onto one half of each round. Top with 1 tablespoon cream cheese and 1 teaspoon almonds. Fold dough in half and seal edges. Pierce tops with a fork to allow steam to escape. Brush with milk; sprinkle each with 1/2 teaspoon ground cinnamon sugar, if desired.
Bake at 350°F (175°C) about 15 to 20 minutes or until golden brown.
Makes 8 servings.
Storage Tip: Cool and freeze calzones in freezer-safe plastic bags or aluminum foil. Reheat at 350°F (175°C) 12 to 15 minutes when ready to serve.
*Check hot roll mix package for any additional ingredients you may need.
Nutritional Information Per Serving (1/8 of recipe): Calories: 353; Calories From Fat: 15; Total Fat: 6g; Cholesterol: 9mg; Total Carbs: 68g; Fiber: 3g; Protein: 9g; Sodium: 439mg.
Recipe and photograph courtesy of Washington State Fruit Commission.