Harvest Cheddar Breakfast Pizza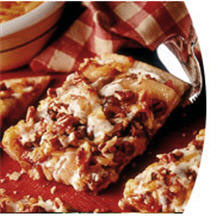 This winning recipe will impress your family and guests as much as it did the judges. American Dairy Association Baked Goods Category Winner, Diane Halferty, Corpus Christi, Texas.
Recipe Ingredients:
1 (15-ounce) package refrigerated pie crust
Cooking spray
1 cup ricotta cheese
6 slices bacon, cooked, drained and crumbled
1 1/4 cups apple pie filling
2 tablespoons brown sugar, packed
1/2 teaspoon ground cinnamon
3/4 cup toasted pecans, coarsely chopped
1 cup cheddar cheese, shredded
1 cup mozzarella cheese, shredded
Cooking Directions:
Preheat oven to 425°F (220°C).
Allow crust to stand at room temperature 10 minutes. Unfold crust and place on a 12-inch vented pizza pan that has been sprayed with cooking spray. Prebake 5 minutes. Once cooled, spread ricotta cheese over the crust. Sprinkle bacon over the ricotta. Spoon the pie filling over bacon and spread evenly.
In a bowl, combine brown sugar, cinnamon and pecans. Reserve 3 tablespoons. Sprinkle on top of the apple mixture. Top pizza with cheddar and mozzarella cheeses. Sprinkle with remaining 3 tablespoons of brown sugar mixture.
Bake 8 to 10 minutes, or until the crust is golden brown and the cheese is melted. Let pizza cool slightly before cutting.
Makes 6 servings.
Recipe and photograph provided courtesy of the American Dairy Association.