Microwave 1-Minute Ham and Egg Breakfast Bowl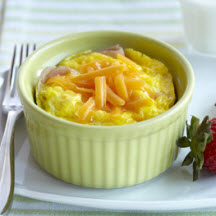 Eggs, ham and cheese join forces in a three ingredient breakfast bowl that's fast and mess-free.
This recipe is an excellent source of protein and choline and a good source of vitamin D.
Recipe Ingredients:
1 thin slice deli ham (1 ounce)
1 large egg, beaten
Shredded cheddar cheese
Salt and ground black pepper to taste (optional)
Cooking Directions:
Line the bottom of 8-ounce ramekin or custard cup with ham slice, folding ham in half, if necessary. Pour egg over ham, season with salt and pepper, if desired.
Microwave on HIGH 30 seconds; stir. Microwave until egg is almost set, 15 to 30 seconds longer.
Top with cheese. Serve immediately.
Makes 1 serving.
Tips:
Don't overcook. Scrambled eggs will continue to cook and firm up after removed from microwave.
Microwave ovens vary. Cook time may need to be adjusted.
Nutritional Information Per Serving (1 recipe): Calories: 133; Total Fat: 8 g (Saturated fat: 3 g; Polyunsaturated fat: 1 g; Monounsaturated fat: 2 g) Cholesterol: 204 mg; Sodium: 420 mg; Carbohydrates: 2 g; Dietary Fiber: 0 g; Protein: 12 g; Vitamin A: 340.8 IU; Vitamin D: 42.7 IU; Folate: 24.8 mcg; Calcium: 78.9 mg; Iron: 1.3 mg; Choline: 126.7 mg.
Recipe and photograph provided courtesy of the American Egg Board (AEB) and Egg Nutrition Center (ENC).